The credibility of your reserch rests on the quality of your sources. Check here to learn how to evaluate the web sources you use. WEB EVALUATION
Search your Google Drive Effectively
Presented by Google
Use the search box at the top of Google Drive on the web to find your files and folders.
Type a word or phrase into the search box in your Google Drive to find a specific file, folder, or Google document, spreadsheet, or presentation. If your search locates something that's in your Trash, a notification will appear at the top of your search results with a link you can click to view the items found in your Trash.
Techniques to search faster
Narrowing your search and/or typing in search operators can help you more efficiently find your files, folders, and Google documents, spreadsheets, and presentations so that you spend less time searching and more time editing.
Narrow your search results
Go to the search box and click the dropdown menu icon
Choose criteria for narrowing your search:

Type: Text documents, images, PDFs...
Visibility: Private, everyone in your domain, public...
Ownership: Whether the file belongs to you or someone else

Type a word or phrase and press Enter on your keyboard or click the Search button.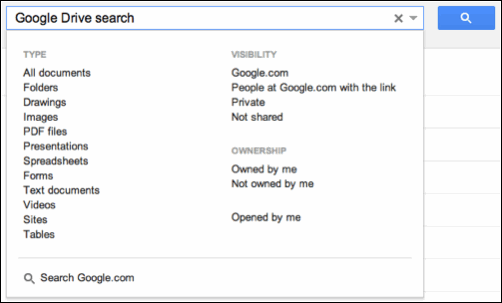 Search by document owners and collaborators
If you know the name of a person who owns or can access the file you're looking for, begin typing his or her name in the search bar. Then select a name from the list of people that appears at the bottom of the search box.
Include search operators
Combine your search phrase with predefined search operators.
Type the search operator (see table below for some of our most popular).
Enter a search phrase directly after the operator and press Enter on your keyboard or click the search button.
Operator
Definition
Example
" " Quotes
To find documents that contain that exact phrase.
"match this phrase exactly"
OR
To find documents with at least one of the words.
tacos OR nachos
- Hyphen
Documents that don't have a particular word. So if you want docs that mention salsa, but not dancing use...
salsa -dancing
from:
Documents shared from someone
from:bob@gmail.com
to:
Documents shared to someone
to:bob@gmail.com
is:starred
Items that you have marked with a star.
is:starred
type:
Search by the type of document. This covers: document, spreadsheet, presentation, drawing, image, video, image_or_video, pdf, and textdoc.
type:spreadsheet
before:YYYY-MM-DD after:YYYY-MM-DD
Find items that were edited before or after a certain day.
before:2010-12-01
owner:
Search according to who owns the item. Searching by owner works best with owner:email address.
owner:frank@emailaddress.com
title:
Search by the item's title
title:"Conference 2010"